I'm thinking of moving back to live journal ( I know, I know, fickle minded girl), but this is where I find "home" to blogging.
I feel blogspot's like a stranger, with very little touch of a community, blah, I'm not sure how to put it further.
As for me, after 2 months, I've finally found a piece of home in Dubai.
I'm still jotting bits and pieces of where I travel to in my
blogspot
and honestly, I think it'll be no time before I come back to live journal, for its commenting system and its layout is still a breeze for me.
I'll be back xxx
Wishing all my livejournal friends a happy lunar chinese year X
find me blogging @
theimpulsiveact.blogspot.com
Logging in to ensure that you are redirected,
I've officially moved to
theimpulsiveact.blogspot.com
so read me there!
Nevertheless, wishing all my livejournal friends a Merry Christmas :)
have a fab 2012 to come!
xoxo and love,
STEPH
Hello there!
I've uploaded my first blogspot entry, made it to Sunday morning as promised!
Like it was before, the future entry will still be full pictures of food, shopping.

Upon a formspring request, I have included a hair-bun tutorial video and will be doing a "what's in my cosmetic pouch" entry soon!


my current favorite hairdo!

Click here for my new blog site -

theimpulsiveact.blogspot.com


Kindly note that I will not be blogging on livejournal from now on and this will be one archived ground.
Join me and I'll see you at the other side!

Tata!

MOVING ALERT!

I was very affected by livejournal downtimes and though I've been in this very comfort-zone for sometime,
I guess it's time I move out.
Good news is, I had a new space up and running, am so happy because my blog entries look pretty there!

I will be listing where it is, once I publish a couple or two posts, should be able to release the URL by Sunday morning!

Question is, will you follow me there? :)

Hello everyone!
With so many pictures I took yesterday, I thought I'll scrimp on text for another entry :)
I love blogging about food, clothes and my girls - these things keep me sane.
With my DSLR in hand, here are some really brief pictures of our outing, we took an insane number of 92 pictures!!! :O

No guesses where we were and we're all in the Christmas mood.
It's just 23 days to Christmas, and one of my top items on the wishlist is the

golden call

:)



No guesses to where we settled for dinner.



This ham's pretty amazing, I forgot the name though.
Above are one half chix with mashed potato + rosti with egg, drizzled with lots of spring onion bits!



Such foodies :D

Honeymoon (Manji) Dessert


Coconut Sago, Peanut Sesame Paste with Glutinous Rice Balls,
Watermelon Sago with Beancurd, Mango Sago with Pomelo and Beancurd.
Talk about the love for beancurd!

Some really random snapshots taken, I really like them!


acting "annoyed" at mel trying my dessert



Mon's iphone with an additional "grey border"



"paparazzi" - I was talking to JS about something, but this photo made it look like we're in an arguement. He was touching my hair actually LOL.

JS went home earlier while we had more girl time. Though we wished for late night snacks and shopping, Orchard had little to offer on weekdays.


Here's one on the self timer, perfect shot of the 2 girls I'll hang out for life :>
Amazing friends complete you, and I have so many of them :)

WIW

A fitting black dress is the quintessential of all girls' wardrobe from

VyLabels




Made of thick, textured bodycon material, this piece hides VPL (thank goodness!)
and saves me the hassle of a seamless.
A keeper for work (pair it with a cream blazer) or for alone for play.
Featuring a low back with the same pretty scallop feature, this is one sure piece I love!

As I've been very used to seeing scallop designs on ends of dresses/skirts, this piece has one really pretty scallop neckline.

P.S. no need for nu bra - a normal bra does the job :>
Being a subscriber of

Vylabel

's mailing list lets you get $2 off!

Lastly, I'll leave you with my favorite fashion show of the year, in HD.

Not my favorite VS show (my favorite was 2007), but I thought it'll be nice to share!
I had a more than tensed and busy week, last weekend and beginning this week.
Sorry for the lack of updates :(

K.L. Part 2
I had to bring my Genting-KL trip to a complete entry - so this is the last part. Recall the last when we were staying in Berjaya?
Beside Berjaya is a KL monorail stop, and so being the adventurous us, we left the mall.
The monorail's really packed at 5pm, so we had to wait till the second to get on. Way squeezy man, but was quite fun!!


We did not do prior research, so we kept having to ask. The monorail staff were very friendly to help :)
We followed a few tourists to Petaling Street, which is KL's version of Chinatown.

Certainly, being the tourist attraction place, prices are comparable to SG.
Most of the stalls sells knockoffs - watches, belts, bags, clothes you name it, they have it.


Heh, quite happy to sneak in a "tourist attraction" in our short one day trip.
We didn't go to petronas or twin towers due to lack of time... but we can see them from our hotel,
how cool is that!

JS & me waiting for the monorail at night and that's the ticket that we used!



Went back to B. Times Sq for dinner, and between the teppanyaki place and a couple of steamboat buffet places,
We chose uncle duck hong kong restaurant.
Didn't know it's rather well-known online too!


Its individual pots and they had 6-7 different soup base you can choose from.
We chose chicken soup and tom yum, both as yummy :>
It's quite a variety of steamboat and cooked dishes presented.
Love how the meat is sliced in shabu shabu style, and every other hour, uncle duck (the boss) will have his kitchen dish out slices of roast duck for customers :)

I'm a mega fan of steamboats, so you see!

Woke up the next morning feeling refreshed and taking a snapshot of myself before heading to breakfast!



Variety of hotel breakfast = :(
It was a simple affair, little variety but sufficient to fill us up!


my must have is different styles and loads of eggs!

Sat our coach back to SG - a quick 5.5 hours ride and guess what we sneaked back?


Boxes of KrispyKreme Original Glazed doughnuts (and background is the times square mall!)



Yummy stuff but never bring them back again, they don't taste good when the sugar frostings melt :(

Sharing some of my instagram photos and what I've been up to!

I found Meehoon Soto near my place (i've been craving for this thing ever since i came back from Bali)
and I love the 1-for-1 nuggets!
Made Hannah meet me to do a corporate shoot and made her have dinner with me and JS, love my new found friend!
An absolute joy to be with, really!
We also found ways to make a neat, full bun, I'll love to show you on my entry one day.
Lastly, Fruits Paradise cakes are to die for, I especially love my Mango creamcheese one :)
It's $9.50 for a cake + tea, if you were considering a good high tea place.

Watched Happy Feet 2 finally, and JS has been complaining that I haven't been able to watch movies with him lately.


I'm unsure why the ticket sales were poor, I think its due to too many good movies being released lately.
Happy Feet 2 now stars the son of Mambo, Eric and Eric is really adorable :)
As much as it's a kids film, I think they're still elements that adults will like watching - such as kinship, having a positive attitude and spirit in accomplishing missions, and so forth.
Catch it if you can!

My movie list is currently full, I have like 3 other movies I've yet to watch, and going to watch this 2 weeks!

Wore In House Fashion's Elegant Cocktail Dress in Green out for my movie date :)


An elegant piece with straps adjustable (bow), you can determine the length of dress you like!
The emerald color makes it easy for you to go casual, or wear it for a formal event like a solemnization party.

2 ways of wearing: it's supposed to be a slight peekaboo effect if you wear the keyhole detail at the back,
but I managed to use hollywood tape to secure the intersecting folds, so that I can wear it both ways!

Illustrated in the pictures is when I wear the keyhole and bow at the front.


Reminds me of the mustard dress I wore to Laine's wedding.
I actually found an alike piece in a different shade, makes me happy!

A very versatile piece to keep.
As worn on the model, this is the other way to wear - a u-neck dress:

I'll be hanging out with my girls tomorrow for dinner! Gonna head town finally!
I am also waiting for a very important call... I hope this works out.. really.
I've been exploring some makeup items lately, and doing a smokey look is pretty awesome!
I've never really done it because it looks really heavy but I've found a way to make it look subtle for work purposes.
I guess I'll never use shades like black 'cos it's too heavy.
I'll post up when I can finally do a clean, decent look!

Heavy Rotation Liquid Eyeliner


The eyeliner that I got after my gf's recommendations, and is such a good purchase!
The second line (as shown on 2nd picture) is the normal thickness applied at one stroke.
You could intensify the thickness by applying more than once, according to your preference.
I like that it's a flex tip and the consistency of the liner, neither too thick or thin for me.

Dior Rouge in Zinnia Red


My first red lipstick.
I know how everyone likes Chanel's matte red shade, and as a glossy lippie fan, I found something inbetween.
It's rather moisturising yet it's quite a matte texture, I'll try to take a picture tomorrow when I try it on again.
By the way, the sales assistant at Raffles City, Gina is fantastic.
She took all the red shades she had to help me decide.
My friend has gotten a Dior liquid foundation from her (which I was lusting after and Joey has to get it for me :p).

Revlon's PhotoReady Liquid Foundation in Nude


Bought this some time ago but only tried this yesterday.
Wore it for the whole day and I was fortunate it didn't make me break out.
I like the coverage of this, and it didn't feel heavy on me (unlike MAC's) so I'm raving this!
Has little shimmers that can't really been seen by the way :p

Chanel's Joues Contraste in Pink Explosion


The only item I bought without reading reviews, as I was at the DFS when I purchased this.
I loved Chanel's powder foundation but I really hated this blusher, should have grabbed others instead.
It's very light on two application, so you have to keep going with applying.
Pigmentation = poor.
Should have stayed with MAC or Bobbi Brown, never gonna repurchase Chanel's blush.

Hoping to blog a longer entry soon, am going to bed!
Goodnight and have a good Monday!
OMG i am so hungry now...... as I am editing my food pictures.
I think it's hard to be a food blogger because all you see is pictures of good food and you run to the kitchen to grab more food to feed that "hunger" :((((
Moreover, people who don't exercise tend to get fat easily.... so this is life :(
Went high tea with my ex-colleagues @
Zhou's Kitchen
, Square 2 (Novena) !
Weekend Lunch has more items compared to this,
but weekday high tea was fairly good with 30 items, which includes a variety of dim sum, cooked dishes and desserts :>
It's around $20 nett each pax :)
My companions for tea
I love the fried fish skins - they taste like crackers.
Most of the dishes fare well - I love the glutinous rice in lotus leave, and the soft char siew paos!
A good place for dim sum lunch & high tea, except that i hated the service @ square 2.
They wanted to stop service at 4:45pm, and they were pretty rude at times :(
The service at far east square (raffles place) fared much, much better!
By the way, Zhou's Kitchen also falls under by Tung Lok Group!
* * *
WIW
With the intention to head to town, and considering the fact I decided breakfast place to be at a hawker,
I wore a loose fitting cream piece that I really liked!
The Sienna dress from
amelie_anne
fits the occasion! It has pretty drape sleeves and a pleated u-neckline.
Made of good cotton, attached with silk-like lining, it's great to slip on during lazy days yet able to pull the effortlessly chic look!
A sash can be worn if you like to some curves, else, i think it looks good without the sash too.
A must-have for weekend dates.
Love for food
My breakfast, lunch and high tea companion, Joey, or affectionately called as Manman.
My pretty baby!
We woke up real early to catch these soft soya beancurd!
Loving them!
Ordered Lor Mee (Braised Noodles) for breakfast.
These are from the Xin Mei Xiang store that was well-raved on Hungrygowhere.
It's diagonally opposite one of the Lao Ban Soya Beancurd stores.
A smooth textured gravy, with really good chili, this has to be the best lor mee!
:D
Headed to town to do some light shopping!
I would love to mention the liquid eyeliner that Joey recommended in another entry, it's almost perfect and cost me less than $20.
Found MAC's to be too thin for my liking...
Went to Kino for magazines.
Bought 2 x VIVI featuring ayumi hamasaki and namie amuro.
Those were the days of "music station" and japanese pop!
Jap magazines are best at giving freebies, but Vivi has none :(
My must-have this Christmas.
Purple fur - I choose you!
$120 spend for taka cardmembers, $150 for non-taka card members.
Korean snacks are awesome!
Tookaway 2 sticks of meatballs, one x twister potatoes
Antoinette
for tea
Pretty settings with pretty kitchenware used.
Lavish looking water goblets.
I had
french apple tart
for tea (fruit tea), while Joey chose a floral tea,
rose petit
.
Joey's strawberry crepe which has some fanciful name that slipped my mind :X
Looks delicious, comes with a huge scoop of vanilla ice cream that loads up the calories she doesn't mind!
Gosh this girl eats a ton, but weighs so little >:(
my most accommodating girlfriend, manman :D
who taught me that "God blesses those who are not greedy"
Teehee, that was our text msg exchanged just 15 mins ago.
JS and I just had
Marutama Ramen
the day before and it's the best ramen in my opinion.
Ippudo and Tampopo doesn't do it for me... I think they're too greasy, though for convenience, I will still have them!
Marutama use chicken stock instead of pork stock (so it's less greasy and lighter in texture).
I love this!!!!!
Have a Hyper Weekend because it's the weekend you do early Christmas shopping!
It's gonna be another weekend gone for me, but hopefully it's with purpose and fulfilling :)
God bless!!
New purchase

My first liquid eyeliner came from Shiseido and it's fantastic, just that I didn't like its price tag ($60) and it was discontinued after some time.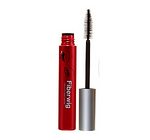 I was looking for a liquid eyeliner, since I heard quite a bit about Koji's Dollywink's version, I wanted to try it.
Unfortunately, the drugstore I went did not have DW's eyeliner, so I found another of Koji's product,
Springheart
and it only cost me $9.90 to purchase.
I had a go at it today, before I decide whether I should take the plunge to go get MAC's version tomorrow ( which I'll review).
Conclusion is, the pen tip is rather hard, so it goes harsh on my lids.
It also forms thin stroke at one application, thus it's buildable if you will like a thicker line.
Personally, I prefer a felt tip so this product failed to impress me, so I'll keep it as a spare tool!
I have both pencil (MAC) and Gel (MAC & Maybelline), but I find myself most comfortable with liquid. If you like a less "fierce" or "harsh" line, try using a darker eyeshadow as a liner - but remember to put on a primer else it wouldn't stay :)
As for
fiberwig mascara from Dejavu
, I like how natural my mascaras look when I have this applied.
My double eyelids are prominent when I apply mascaras ( I'm not sure why) so I could go without eyeliners on usual days.
This is also easily removed if you use a cleansing gel/oil - I'm using Fancl's MCO :)
* * *
Finally got to meet my boyfriend today after attending a weekend course.
JS looked awfully tired as he was down with a flu :(
Went to my favorite chinese restaurant for dinner,
Soup Restaurant.
The table of food for 2!
I was so hungry that I felt I still didn't had enough after this meal :\
We ordered the Healthy Set Menu for 2.
Everyone's favorite
Samsui Ginger Chicken
You are supposed to wrap the chicken with the lettuce, along with some garlic paste.
The chicken is served cold, and with the crunchy lettuce, it's a perfect combination :)
Ah Gong Fan Shu Leaves
(Sweet Potato Leaves)
High in dietary fibre, this dish is a stir fried with sambal chili, goes really well with white rice.
You can ask for one without chili if you prefer.
Steamed "San Yu" Sliced Fish
The fish is really fresh, and served with superior soya sauce and garnishes.
D'Boiled Waisen & Ginseng Roots with Chicken Soup
(one for each pax)
A herbal chicken soup, I was lucky to get one which isn't too bitter for my liking.
JS likes his bitter!
Love my dinner so much, I don't mind having it anytime again this week!
Went to Swensens' for some ice cream loving and saw its revamped menu with Christmas options!
12 Sundaes of Christmas
Was disappointed with the presentation because it looked really messy, and my sticky chewy chocolate melted :(
my star with an edge missing..... arghhh!
The ice creams are not recommended in my opinion, kinda regretted not having the usual Sticky Chewy Sundae :((((
my WIW :)
dress from
online
necklace from
house of harlow
clutch from
Red-Poppiez
I've been wearing this clutch on several occasions after I received it from Christine!
She needed ideas to name this clutch, so as elegant and vintage as it looks, so I thought something along the lines of Audrey Hepburn will be apt!
I'm unsure of the final name, but Chris came up with Hepburn Dae2Nite clutch, sounds pretty isn't it?
I love how the goldware looks subtle ( not too yellow) so you can wear both silver and gold accessories with it!
I'm quite anal when it comes to accessories tone.
This thick faux leather clutch is smooth and its sewing is well done as shown in pictures.
Green is also a funky color that you can bring from day to night - and this jewel tone looks special!
Comes with 2 main compartments - zips are sewn to ensure your things don't fall out.
At times I am lazy, I don't even lock the bag - so I find the zips useful :)
As for the colors available.... here they are!
My favorite still goes to green, the brown will go well if you like basic colors :)
full preview on:
http://www.facebook.com/RedPoppiez
To get
10% off
collection 30 - launched
this Wednesday
, you have the option of sharing their collection pictures, or quote my name "
Stephanie
" ( I suppose an easier option) when you comment / order this clutch!
Enjoy shopping! :)